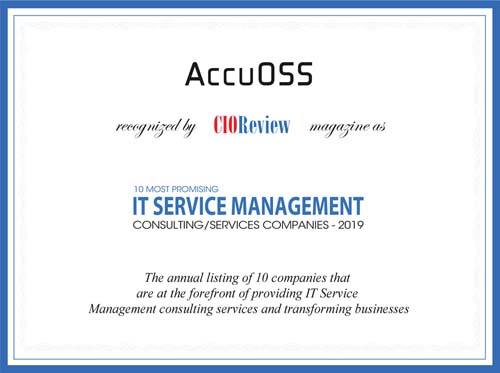 Plano, TX – December 23, 2019 – AccuOSS solidifies its role as a leader in IT Service Management services and consulting with recognition from CIOReview: 10 Most Promising IT Service Management Consulting/Services Companies.
AccuOSS is pleased to announce that CIOReview Magazine has recognized AccuOSS for our ability to demonstrate results for our clients as they transform their operations in the new digital era. Criteria for this achievement included:
Ability to demonstrate transformation for our customer base
Unparalleled experience implementing artificial intelligence operations solutions
Offerings to scale from the largest services providers to small/medium-sized-business
As a leader in Service Assurance and IT Operations Management solutions for service providers and enterprises, "AccuOSS was recognized for its leading solutions incorporating artificial intelligence and software-as-a-service solutions to meet and scale to each customer's business needs," said Jay Ward, Director of Sales & Marketing at AccuOSS. "At AccuOSS, we recognize that our customers have similar problems. Everyone is looking for ways to manage their infrastructure smarter, with less manual effort, to ensure optimal end user experience. However, the size and scope of the customer and their resources demands solutions scaled to fit their needs. AccuOSS provides a prescriptive approach to enable our clients' operations teams to deliver the outcomes they need while reducing complexity and overhead."
You can find the CIOReview article here.
AccuOSS (Accurate Operational Support Systems) is a software development firm and information technology integrator who brings deep experience in developing, implementing and supporting Operational Support Systems and IT Service Management solutions for service providers and enterprises.
For more information, please visit www.accuoss.com.