SIFF
Manage Rapid Changes in DevOps, Network, and IT Operations
COLLECT & MONITOR
All configuration and changes in one place.
Troubleshooting complex incidents is hard. Especially if the information you need is fragmented across various tools and silos. SIFF tackles this challenge by collecting all configuration changes and making the data easily accessible via intelligent search, troubleshooting tools, and reports.
TROUBLESHOOT & REPAIR
Narrow down and identify the root cause fast.
An alert signals there is a problem. Performance graphs indicate symptoms. Application logs throw you deep into the haystack, but are you searching in the right haystack? Start by reviewing the recent and related config changes that may have caused this mess.
REDUCE & PREVENT INCIDENTS
Review work and prevent errors from becoming an outage.
Software developers have code reviews to reduce errors. DevOps should review completed infrastructure Change Requests too. Peer reviews only happens when there are tools that make the process easy. SIFF automates collecting all relevant config changes for the Change Request and highlights the differences so that you can quickly review for correctness and completion.
Accuoss will integrate SIFF into your existing NMS/OSS/BSS systems to assure all configuration change notifications reach your Engineers and NOC Operations Personnel.
Contact Us for more Information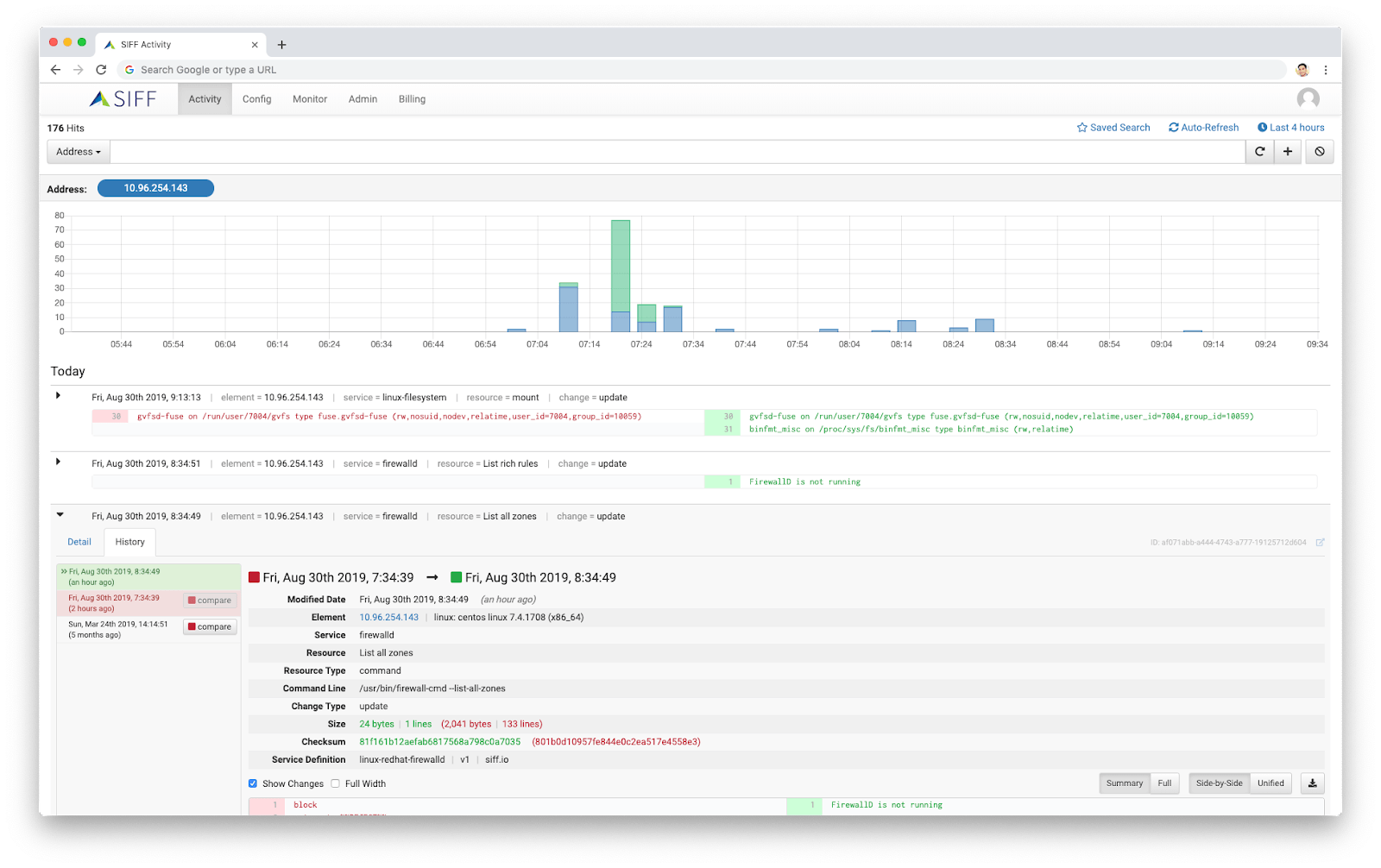 Change Activity Monitoring
Managing change is the key to driving business agility. The configuration throughout your environment, across all devices and systems, are the code or DNA to your organization. Most organizations today are completely blind to all the changes that occur, whether planned/authorized, unplanned/ad-hoc, or worse a security Indicators of Compromise (IOC). Accuoss deploys SIFF to provide the ability to monitor changes across all your devices and systems to help:
Accelerate Incident Troubleshooting and Repair
Improve Change Management by Reducing Outages from Configuration Errors
Governance, Auditing and Compliance Monitoring
Security Auditing and Forensics